mucha print


It was Mucha's belief that through the creation of beautiful works of art the quality of life would be improved. He also believed that it was his duty as an artist to promote art for ordinary people. He was able to fulfill both of these objectives by means of his innovative concept of the mass-produced decorative panel. Of the panels, Mucha later wrote: 'I was happy to be involved in an art for the people and not for private drawing rooms. It was inexpensive, accessible to the general public, and it found a home in poor families as well as in more affluent circles.'
In gaining wider public recognition as the 'Master of the Art Nouveau poster', Mucha's success in a new genre – decorative panels ('panneaux décoratifs') – played a significant part. Decorative panels were posters without text, a prototype of today's art posters, designed purely for artistic appreciation or decorating interior walls. It was the printer Champenois who invented this idea from the business point of view: to maximise business opportunity by recycling Mucha's designs for many different editions. However, it was Mucha who transformed them into a new art form, affordable and available to the wider public, whereas, traditionally, works of art were available only to the privileged few.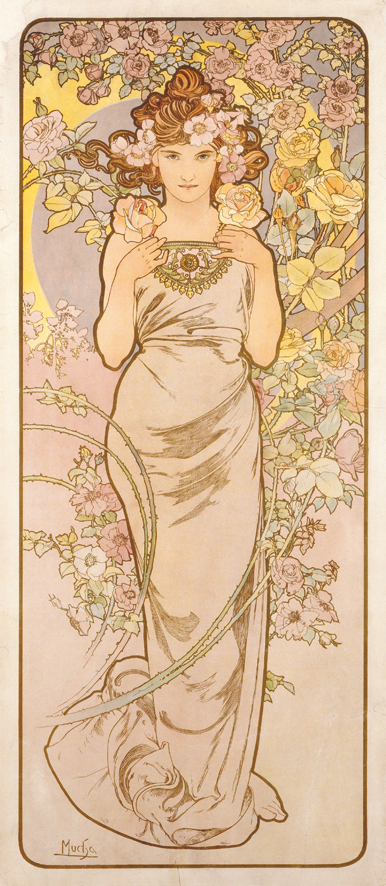 Sarah Bernhardt starred in the main male role in Shakespeare's Hamlet, translated into French for her by Eugène Morand and Marcel Schwob. Behind the central figure of Hamlet, the ghost of his murdered father haunting the ramparts of Elsinore appears in the background. Ophelia, who had drowned, lies, decorated with flowers, in the segment by Hamlet's feet. Hamlet was the last poster Mucha made for Sarah.
Alphonse Mucha is primarily known as a draughtsman and graphic artist, however, the training he received at the Academy of Art in Munich also included painting. In the 1890s, Mucha engaged primarily in commissions in the field of graphic art and his paintings include mostly portraits and uncommissioned portrait studies. At first, Mucha painted his larger allegorical paintings using tempera (Prophetess, 1896), turning to large-format oil painting only after the relaxing of stylistic constraints and the discovery of the great theme for the cycle of paintings from the prehistory and history of the Slavs, at the beginning of the 20 th century. The enigmatic Woman in the Wilderness (also known as Star, 1923) demonstrates Mucha's great skill in this genre, combining realism and symbolism to create something exceedingly more substantial and challenging than a mere continuation of the tradition of historical painting. The artist fully explored this potential in his cycle of paintings known as the Slav Epic.
icon–bookmark-outline icon icon–bookmark-outline
icon–mail icon icon–mail

To get your mural price, enter your wall measurement:
We ship worldwide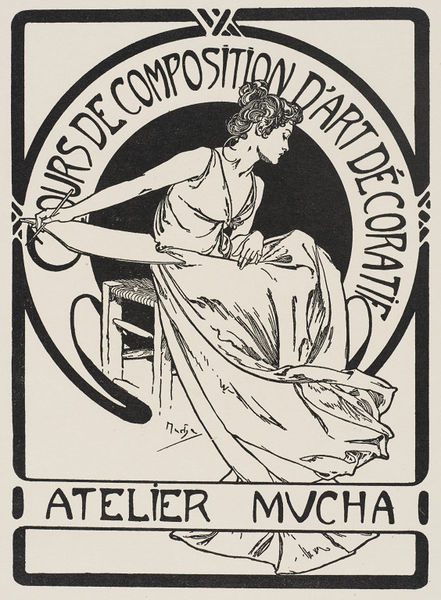 Mucha, Alphonse, born 1860 – died 1939 (artist)
Prints, Drawings & Paintings Collection
References:
http://www.mucha.cz/en/exibition
http://www.kickstarter.com/projects/centuryguild/make-100-limited-edition-rare-mystical-alphonse-mu/posts?lang=it&page=2
http://www.pictorem.com/4312/Salammbo%20by%20Alphonse%20Mucha.html
http://collections.vam.ac.uk/item/O697604/print-mucha-alphonse/
http://www.indcatholicnews.com/news/37690