henry moore drawings

Henry Moore Studios & Gardens hosts the largest exhibition devoted to Henry Moore's drawings in 40 years.
A richly illustrated book published by the Henry Moore Foundation, with texts by the exhibition's curator, Sebastiano Barassi, and Sylvia Cox, Assistant Curator, accompanies the exhibition.

Moore was an exceptionally talented draughtsman, producing a body of nearly 7,500 drawings over seven decades; this exhibition will explore the many different ways in which he used drawing. He found that its eclecticism and ease of use made drawing an ideal medium for a wide range of purposes: from a tool to study natural forms or the work of other artists to means for the development of new sculpture, or as a way to experiment with languages and techniques. However, for Moore drawing was not merely a means to an end, but also a medium for finished artwork in its own right – so much so that he was sometimes referred to as a 'sculptor and painter'.
Entry to Henry Moore Drawings: The Art of Seeing is included in your ticket to Henry Moore Studios & Gardens. Online tickets are available through Art Tickets, a service provided by the Art Fund.
Moore became well known through his carved marble and larger-scale abstract cast bronze sculptures, and was instrumental in introducing a particular form of modernism to the United Kingdom. His ability in later life to fulfil large-scale commissions made him exceptionally wealthy. Despite this, he lived frugally; most of the money he earned went towards endowing the Henry Moore Foundation, which continues to support education and promotion of the arts.
The student sculptures of both Moore and Hepworth followed the standard romantic Victorian style, and included natural forms, landscapes and figurative modelling of animals. Moore later became uncomfortable with classically derived ideals; his later familiarity with primitivism and the influence of sculptors such as Constantin Brâncuși, Jacob Epstein, Henri Gaudier-Brzeska and Frank Dobson led him to the method of direct carving, in which imperfections in the material and marks left by tools became part of the finished sculpture. Having adopted this technique, Moore was in conflict with academic tutors who did not appreciate such a modern approach. During one exercise set by Derwent Wood (the professor of sculpture at the Royal College), Moore was asked to reproduce a marble relief of Domenico Rosselli's The Virgin and Child [13] by first modelling the relief in plaster, then reproducing it in marble using the mechanical aid known as a "pointing machine", a technique called "pointing". Instead, he carved the relief directly, even marking the surface to simulate the prick marks that would have been left by the pointing machine. [14]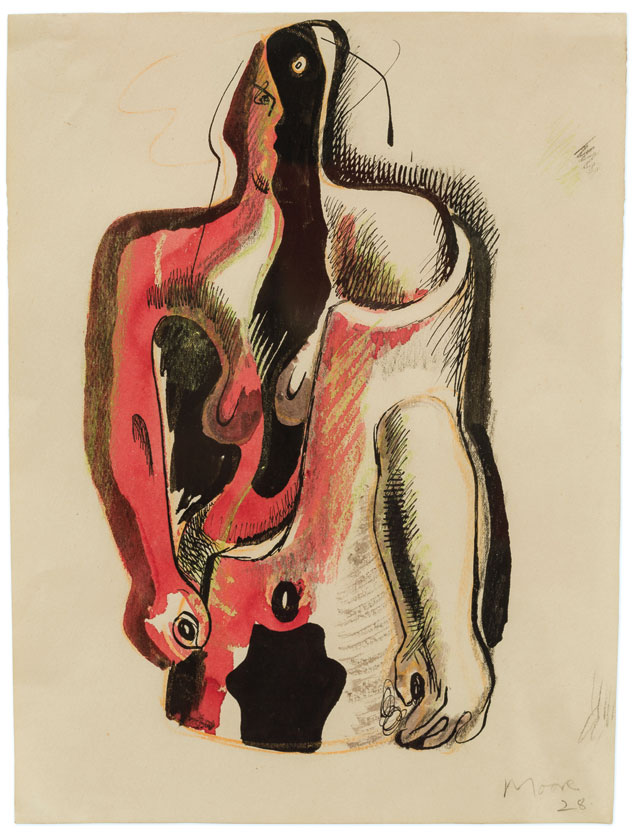 Drawing was essential to Moore as a tool for close looking: "Drawing, even for people who cannot draw, even for people not trying to produce a good drawing, it makes you look more intensely … Just looking alone has no grit in it, has no sort of mental struggle or difficulty. That only happens when you are drawing." 1 Moore was a prolific draughtsman and produced about 7,500 drawings over a period of seven decades, numbers that give some sense of how vital it was to him. The 150 works shown in this exhibition largely come from the Henry Moore Foundation's own collection, supplemented by a small number of strategic loans from Tate, the British Museum, the Imperial War Museum and private collections.
by BETH WILLIAMSON

Sale Date: May 1, 2019
Sale Date: March 8, 2018
References:
http://www.henry-moore.org/whats-on/2019/04/03/henry-moore-drawings-the-art-of-seeing
http://en.m.wikipedia.org/wiki/Henry_Moore
http://www.studiointernational.com/index.php/henry-moore-drawings-the-art-of-seeing-review-studios-and-gardens-hertfordshire
http://www.artnet.com/artists/henry-moore/
http://en.m.wikipedia.org/wiki/Henry_Moore_Foundation