frankenthaler mountain and sea
In the fall of 1952, at the age of 23, Helen Frankenthaler made her legendary painting Mountains and Sea, the first work she created using her celebrated soak-stain technique. Thinning down her paint with turpentine or kerosene, the artist developed a medium that would seep into and through the weave of unprimed canvas. The resulting stain, which often left a surrounding aura, gives a sense of perpetual movement to a work while simultaneously joining image and ground.
While Mountains and Sea reveals a debt to Frankenthaler's earlier influences, including Vasily Kandinsky, Joan Miró, and Arshile Gorky, its use of unprimed canvas and the artist's union of painting and drawing were triggered by an encounter with Pollock's black-and-white paintings at an exhibition at Betty Parsons Gallery, New York, in 1951. Pollock's rejection of easel painting also inspired Frankenthaler's more liberated process. Pouring liquid pigment onto bare canvas spread out on the floor, Frankenthaler created breathing landscapes of shifting, almost transparent, color zones. These atmospheric color washes, actually embedded in the cotton fibers, achieve an optical sense of depth while avoiding perspectival illusionism and maintaining the flatness of the canvas.

Helen Frankenthaler, Mountains and Sea, 1952, oil and charcoal on unsized, unprimed canvas, 219.4 x 297.8 cm (National Gallery of Art, Washington)
Sign up for our newsletter!
Still, the Guggenheim is to be congratulated for mounting the exhibition, not least because Color Field painting has been so long out of fashion critically and stylistically. Perhaps the museum's rumored curatorial budget-crunch will have the positive result of smaller, more focused and digestible shows such as this one, rather than the recent cavalcade of overblown retrospectives and continental blockbusters. For a museum whose designer was a classic Modernist, the motto "less is more" should be a trusted guide to future programming.
Despite the esthetic and historical interest of the works in this exhibition, the installation itself seems rather unnuanced. Once again, the Guggenheim's interest seems to be largely given over to name recognition. For example why consign the major opus Mountains and Sea, the raisonne d'etre of the entire show, to a side wall? And why squeeze big paintings into small spaces? Works such as Open Wall (1953) and Madridscape (1959), illustrated in the catalogue but absent from the show, hint at Frankenthaler's sense of a panoramic conception for her work: big fields of color that need to breathe in big fields of canvas.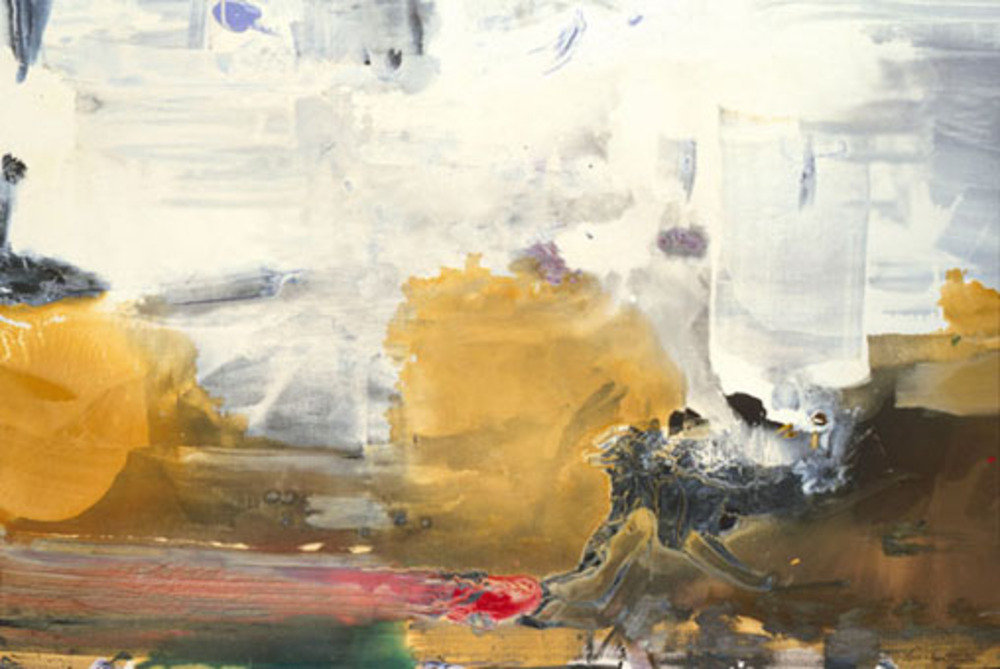 Unlike many of her painter colleagues at the time, Helen who was born in New York City in 1928, came from a prosperous Manhattan family. She was one of three daughters of Alfred Frankenthaler, a Supreme Court Judge and Martha Lowenstein, an immigrant from Germany. Helen was so interested in art from an early age, she would dribble nail polish into a sink of water to watch the colour flow.
'There is no formula,' she said in an interview in the New York Times, 2003. 'There are no rules. Let the picture lead you to where it must go.'

Speculating that Helen Frankenthaler's Mountains and Sea could sell for more than $10m were it to be sold at auction (the work is currently on loan to the National Gallery in Washington, DC from the artist's estate,) Judd Tully tries to determine the market value of the artists' work:
Last November at Christie's New York, for example, "Royal Fireworks," a huge acrylic-on-canvas from 1975 sold for a record $818,500 (est. $250,000-350,000).
Resources:
http://smarthistory.org/frankenthaler-sea/
http://www.artnet.com/magazine_pre2000/features/klein/klein3-2-98.asp
http://www.thecallalilydialogues.com/the-dialogues/2017/7/18/helen-frankenthaler-mountains-and-the-sea
http://www.artmarketmonitor.com/2012/01/06/whats-frankenthaler-worth/
http://www.guggenheim-bilbao.eus/en/exhibitions/after-mountains-and-sea-frankenthaler-1956-1959