kandinsky composition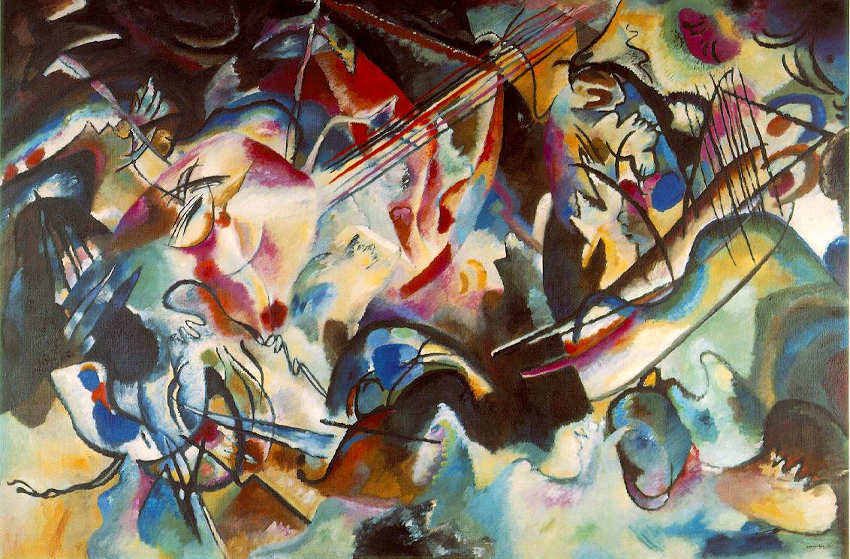 Shortly after finishing this milestone, Kandinsky was forced by the outbreak of World War I to return home to Russia. Depressed about the war he barely painted at all for years. It was 10 years before he resumed his Composition series. "Composition VIII" (1923) translates the abstract imagery of its predecessor into a purely geometric visual language. "Composition IX," which was not completed until 1936, is not purely abstract, but reintroduces the idea of "impression" by adding floral forms and other natural imagery. "Composition X" (1939), which was completed five years before Kandinsky died, is highly symbolic, and also shockingly modern looking, even now. However, though each of these later Compositions, and each of the six that preceded it, could be considered visionary, what makes "Composition VII" stand apart is the fact that by achieving thoughtful, methodical, mature, and total abstraction, it fulfills the ultimate ideal that Kandinsky was trying to achieve, not only with this series but with all of his 20th Century works. It is the first time Kandinsky achieved with painting what he believed musicians achieved with music: a pure translation of feelings into formal abstract elements that are capable of expressing the human spirit.
"Composition V" (1911) is even more abstract, and yet the emotion it expresses also feels more intense than in the earlier Compositions. In this painting, the forms in the painting still somewhat relate to the natural world since slightly humanoid figures and quasi-natural features, however pared down, are interspersed throughout the image. Almost totally abstract, however, is "Composition VI," which Kandinsky painted two years after "Composition V." Its most prominent feature is its lines, such as the six parallel lines in the middle of the image that resemble the neck of a guitar. What this painting represents, according to Kandinsky, is "the Flood," meaning the biblical story of Noah. He attempted to distill the emotional, psychological, and spiritual essences of the story—destruction and creation; fear and hope—into a visual exploration of balance and harmony. About "Composition VI" he wrote, "the original motive of the painting (the Flood) was dissolved and transferred to the internal, purely pictorial, independent and objective existence." Nonetheless, the painting still clearly includes some figurative elements, which tie its visual language to the external world.
The halo, a recurrent artistic theme throughout the ages and across several cultures, has more than one meaning and is open to different interpretations. Light, in some spiritual and philosophical traditions, represents higher consciousness while a person who basks in the light-of-reason may be considered enlightened. Heads of Greek and Roman deities, such as Helios and Jupiter, were at times shown encircled with a nimbus of light and this artistic convention seems to have been adopted by early Christians living in the Greco-Roman world. Kandinsky, an adherent of Russian Orthodox Christianity whose faith often influenced the themes in his paintings, would have been aware of the halo's significance in the religious iconography of his native country. Jesus Christ, the Virgin Mary, the Saints and the Apostles were all depicted in Russian Orthodox iconography with heads illuminated by haloes that symbolised their holiness.
At present the painting is displayed at the Guggenheim Museum in New York.

The Gallery of Lost Art is an immersive, online exhibition that tells the fascinating stories of artworks that have disappeared. Each week a new story of loss is added, and the evidence presented for examination
Wassily Kandinsky, Composition I 1910
© Wassily Kandinsky
Thus far this description may very well be acceptable as a definition of abstract art in general and would be applicable not only to Kandinsky's own early abstract work but also to the later work of such divers artists as Piet Mondrian, Kupka, or Malevitch.
How then are we to classify Composition V? As "abstract," "nonrepresentational," "nonobjective," or as an example of "absolute painting"? In posing such perplexing questions it must be kept in mind that any classifications or stylistic nomenclatures (such as Baroque or Dada) are hardly precise if applied to an individual work of art.

Solomon R. Guggenheim Museum, New York, Solomon R. Guggenheim Founding Collection, By gift, 1937
Solomon R. Guggenheim Museum, New York, Solomon R. Guggenheim Founding Collection, By gift, 1937
Resources:
http://www.kandinskypaintings.org/composition-viii/
http://www.tate.org.uk/art/artists/wassily-kandinsky-1382/lost-art-wassily-kandinsky
http://www.wassily-kandinsky.org/Composition-V.jsp
http://www.artsy.net/artwork/wassily-kandinsky-composition-8-komposition-8
http://www.artchive.com/glyphs/kandinsky/index.html