flag (painting)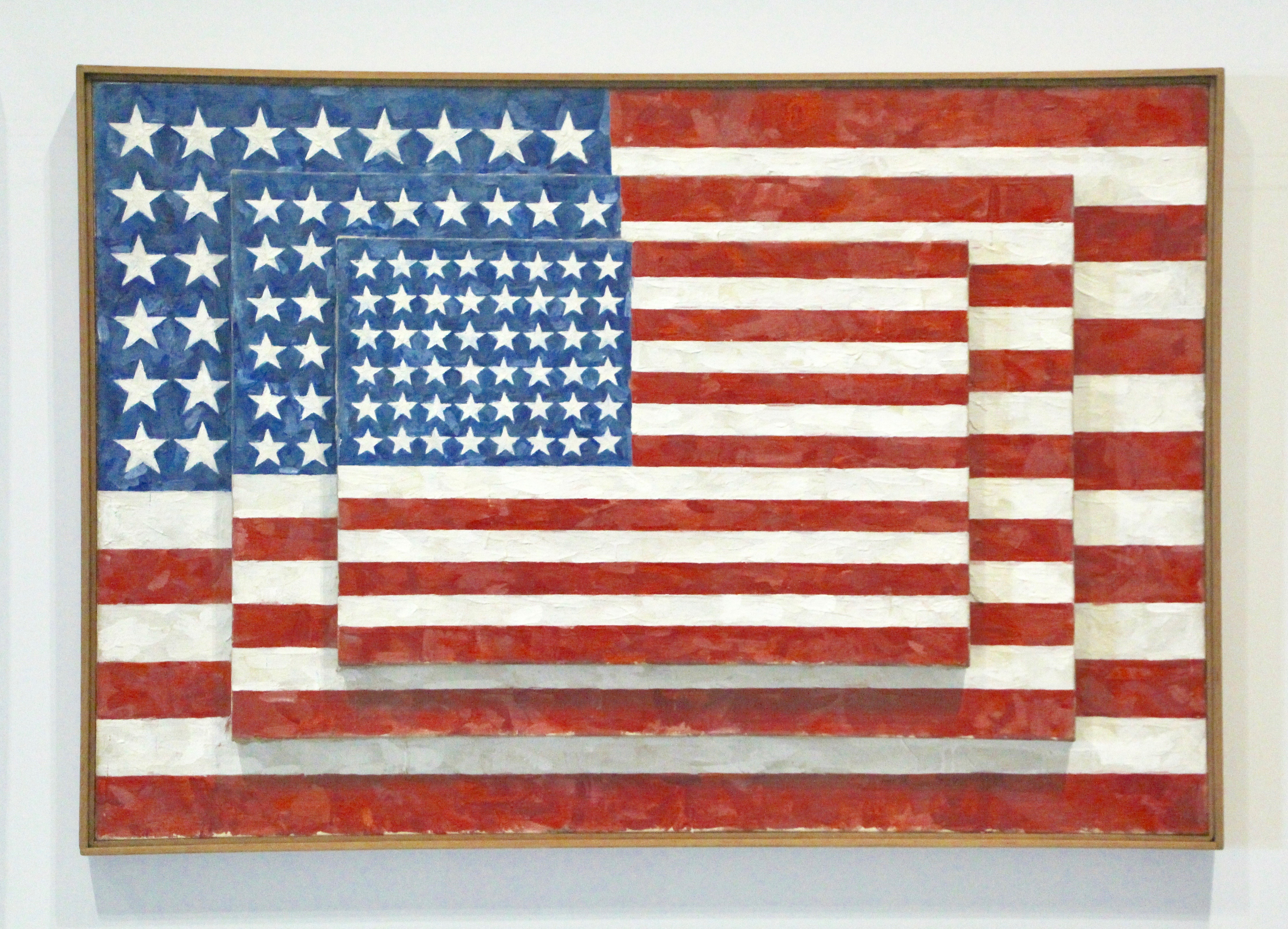 Defined by motifs that occur throughout his body of work, including targets and numbers, Johns's career began with Flag, which sparked a revolution when it appeared in 1958. The art world was nearly a decade deep in Abstract Expressionism when this 3.5-by-5-foot encaustic replica of the Stars and Stripes turned up at the Leo Castelli Gallery. In an auspicious debut, Johns sold three paintings (two targets and a numeral), to Alfred Barr, founding director of MoMA. It was rumored the museum wanted to purchase Flag but were concerned about its political overtones.
The son of an alcoholic farmer in South Carolina, Johns was three when his parents divorced and he was sent to live with his grandfather. An itinerant childhood between relatives often left him feeling like a guest in his own home. After attending University of South Carolina he moved to New York and enrolled in Parsons School of Design.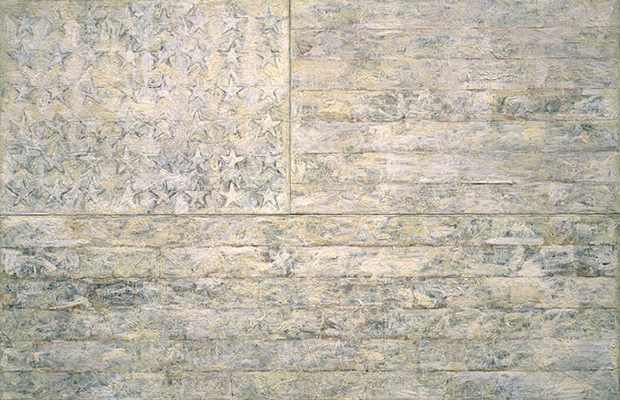 "Long out of favour and largely forgotten, encaustic was an ancient technique most closely associated with a group of remarkable Egyptian funerary portraits. Affixed to the deceased's mummy prior to burial, these highly realistic portraits from the second century were designed to preserve the image of the dead, just as Flag and its ghostly white pendant White Flag, preserved aspects of contemporary American painting at the very moment when Johns was laying to rest various aspects of this moribund tradition. A pivotal object within the history of modern American art, Flag was a beginning for Johns, but for Abstract Expressionism it was also the beginning of the end. For in the paintings that followed Johns's dramatic debut, this audacious newcomer systematically challenged every aspect of mid-century painting, beginning with the tactile brushstrokes that are arrested in Flag.
"In 1955, Abstract Expressionists such as Pollock and Willem de Kooning dominated the New York art scene. Their paintings were large and mostly abstract, and a high premium was set on their expressivity, as well as the formal elements that brought that dimension of their work to life: composition, colour and brushwork.
"It all began. with my painting a picture of an American flag," Johns remarked in 1959 in reference to this work. Flag was made on a cut bedsheet using oil paint and then encaustic, a method involving pigmented melted wax. Johns dipped strips of cloth and newsprint into the hot wax and then affixed them to the sheet to fill in a penciled outline of the flag. The result is a picture whose process is registered on its surface, a focus on materiality at odds with the expressionistic gestures dominant in painting at the time of Flag's making. Johns went on to use encaustic to render familiar forms—flags, targets, numbers, letters, and a map of the United States—time and again throughout his career. Flag constitutes both a thing (a flag) and its representation (a painting of a flag). This built-in ambiguity is the work's innovation as well as its provocation. MoMA's founding director, Alfred H. Barr, Jr., hoped to acquire the piece along with three others from Johns's first solo exhibition, in 1958 at New York's Leo Castelli Gallery. However, the Museum's Committee and Board of Trustees deemed Flag to be potentially "unpatriotic." Barr circumvented their objections by asking architect Philip Johnson to acquire the work and donate it to the Museum at a later date.
The forty-eight stars and red-and-white stripes depicted here picture an American flag from the year this work was made. Johns noted that using a recognizable image took care of a great deal for him because he didn't have to design it. He made this work by combining panels, paint, and encaustic—a mixture of pigment and melted wax that captured the paint's drips, smears, and brushstrokes. Beneath the flag's familiar stripes, we can make out a collage of newspaper scraps whose dates locate this commonplace symbol within a particular moment.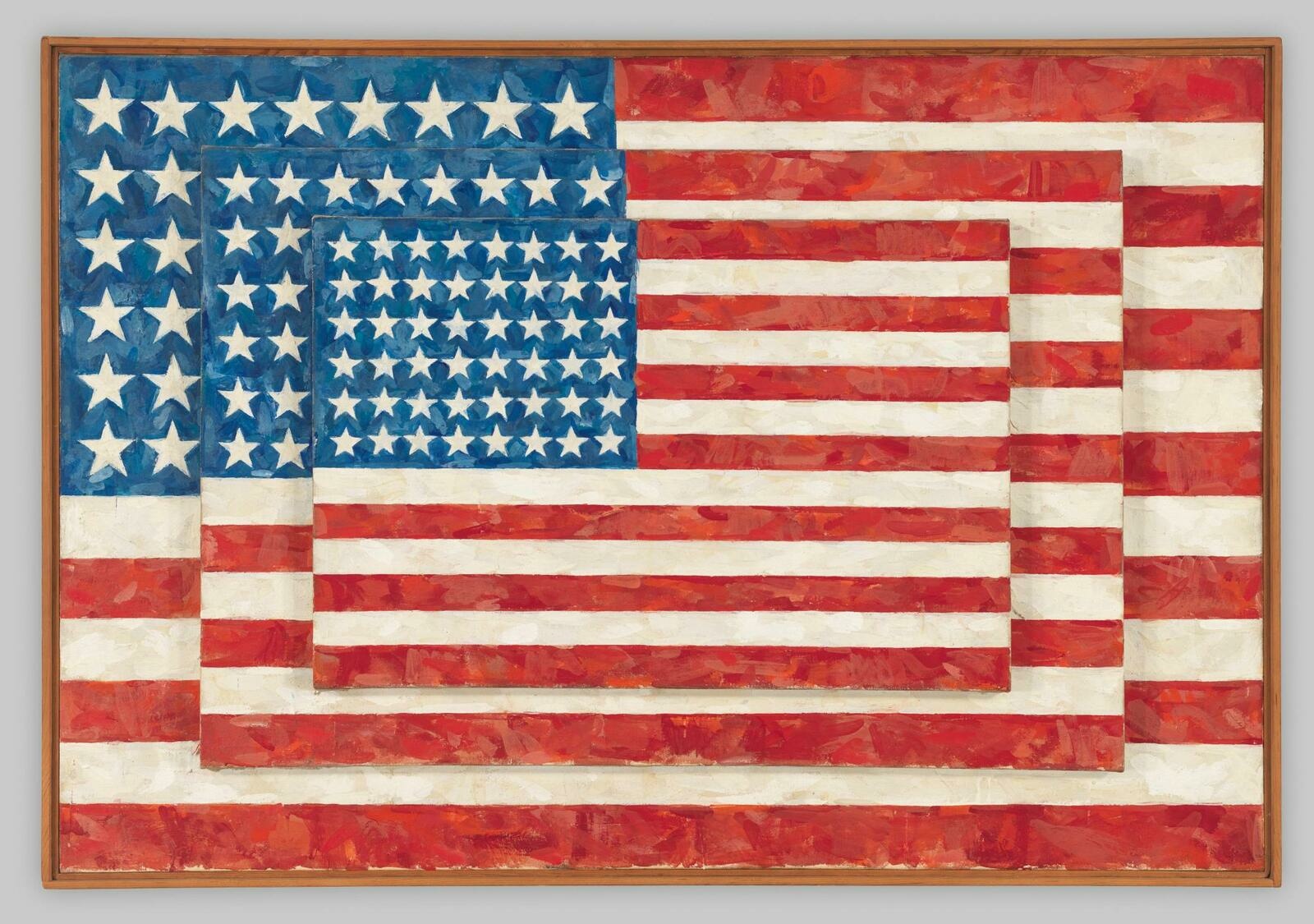 Date
1958
Dimensions
Overall: 30 5/8 × 45 1/2 × 4 5/8in. (77.8 × 115.6 × 11.7 cm)

Land Of The Free Painting
Presidents Washington And Jackson Painting
Resources:
http://www.phaidon.com/agenda/art/articles/2014/july/29/the-incredible-story-behind-flag-by-jasper-johns/
http://www.moma.org/collection/works/78805
http://whitney.org/collection/works/1060
http://fineartamerica.com/art/paintings/american+flag
http://www.1hourphoto.com/target-photo-printing/