church of the flagellation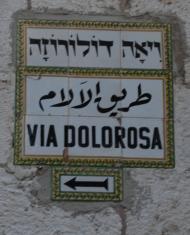 "Then Pilate therefore took Jesus, and scourged him. And the soldiers platted a crown of thorns, and put it on his head, and they put on him a purple robe, And said, Hail, King of the Jews! and they smote him with their hands".

Jesus scourged – Drawing by Gustav Dore (French artist, 1832-1883)


Zahi Shaked A tour guide in Israel and his camera
[email protected] 972-54-6905522 tel
Выполните вход, чтобы сообщить о неприемлемом контенте.

Fifth Station: Pilgrims on the Way of the Cross (Seetheholyland.net)
Twelfth Station: Close-up of figure of Christ in Chapel of the Crucifixion (Picturesfree.org)

From there we were received by the Armenian Apostolic Patriarch of Jerusalem, Nourhan Manougian. His Beatitude actually served in several Armenian Apostolic church parishes in the U.S. and his English is perfect. His comments focused largely on the immense suffering of the remaining Christians in the Holy Land, the decades long exodus of Christians of all denominations from Jerusalem, and his growing fear that peace was growing out of reach. His words echoed those of so many others. Efforts for peace are critical. The success or failure will have ramifications that could affect the entire world.
You might recall that in 1342 Pope Clement VI authorized the Franciscan Order as the "official custodians" of the Holy Places — an appointment that remains in place to this day. The first Chapel built on the site of the Flagellation Church was built in 1839 and rebuilt from 1927 to 1929. The current structure was designed by the famous Italian architect, Antonio Barluzzi, who built a great many of the great churches of the Holy Land (Mt. Beatitudes, Basilica of Agony, etc.). Upon walking into the Church one is immediately struck by the three massive stained glass windows. Behind the altar is a depiction in glass of the flogging of Jesus and the placing of a crown of thorns on his head. On one of the side walls the window shows Pontius Pilate washing his hands from the sin, and on the alternate side window there is a depiction of Barrabbas rejoicing upon his release instead of Jesus.
On the right you will find the Church of the Flagellation. It is simple but offers stained glass windows and an attractive mosaic on the domelike ceiling; although not obvious at first glance, the latter is designed as a circular pattern of thorns. The northern window depicts Pontius Pilate washing his hands, the central one behind the altar depicts the Flagellation, and the southern one the victory of Barabbas.
On entering the grounds just off the main street, you arrive in a picturesque courtyard with beautiful plants. On the left lies the Church of the Condemnation topped by five white domes, each of them sitting on drum containing stained-glass windows depicting themes from Christ's Passion. Further illustrations can be seen on the walls: Pontius Pilate washing his hands, and soldiers imposing the cross on Jesus. Another interesting feature is the Roman-period floor next to the building's western wall, made of very large, striated stones that kept animals' hooves from slipping.
Resources:
http://m.youtube.com/watch?v=UOFVf9e_Zto
http://www.seetheholyland.net/tag/chapel-of-the-flagellation/
http://salinadiocese.org/bishops-office/448-peace-pilgrimage/2839-church-of-the-flagellation
http://www.gpsmycity.com/attractions/church-of-the-condemnation—flagellation-1042.html
http://mbarouen.fr/en/oeuvres/the-flagellation-of-christ