mountains and sea frankenthaler
Frankenthaler's watery flow of pigment punctuated with controlled bursts of color and large areas of exposed canvas contradicted the fashion at the time for heavily impastoed canvases painted with vigorous gesture. Frankenthaler was unique in translating into her own language Pollock's radical allover method, adding color to the play of flatness and depth. As artist Morris Louis declared, Frankenthaler "was a bridge between Pollock and what was possible." Frankenthaler's impact on Louis and Kenneth Noland─who have cited the significance that seeing Mountains and Sea in Frankenthaler's studio in 1953 had on their art─ has placed her as a link between Abstract Expressionism and Color-field painting.
Titled after the seaside cliffs Frankenthaler had visited in Nova Scotia the previous summer, Mountains and Sea is one of her many abstractions─including Autumn Farm and Acres (both 1959)─that evoke memories of landscapes. The organic qualities of Frankenthaler's painting, however, have as much to do with the properties of the artist's materials as with any actual reference to nature. Frankenthaler, who insists that she is not an Action painter, makes the fluidity of the paint─ not the motion of the painter, as in Jackson Pollock's drip technique─primary to the animation of her work.

Helen Frankenthaler, Mountains and Sea, 1952, oil and charcoal on unsized, unprimed canvas, 219.4 x 297.8 cm (National Gallery of Art, Washington)
Sign up for our newsletter!

[…] But the noted abstract painter and world-class colorist, who certainly had a poetic gift for titling her beautiful paintings, hasn't suffered in the secondary market.
Her timing was impeccable. "Back then in 1958 to 1960, there was a real blood bath, and the entire Second Generation kind of got wiped out," Sandler recalls. He attributes that slaughter to the entry of Pop art and successive movements such as Minimalism — or as he puts it, "anything that wasn't gestural."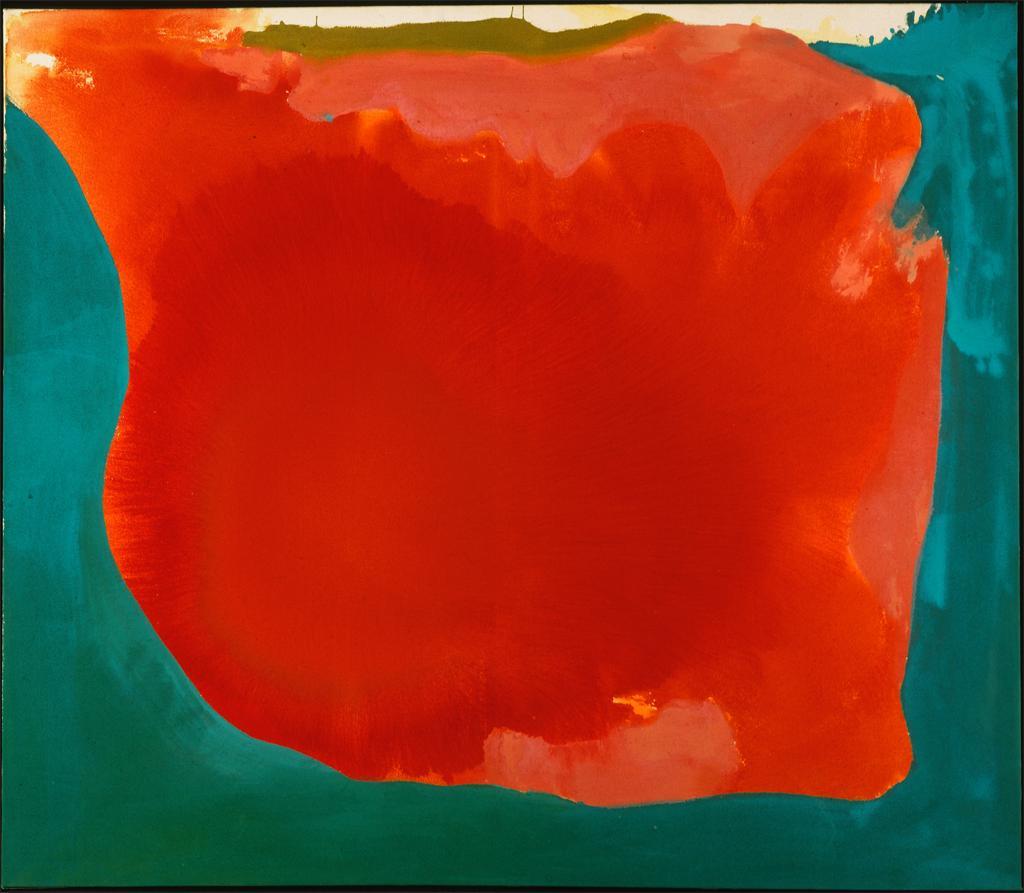 Helen loved to entertain. She enjoyed feeding people and engaging in lively conversation. And, she liked to dance. You could see it in her movements as she worked on her paintings.
She was celebrated as a painter of instinct, which she obviously was, but she was also very calculating in what she did. The stress on the instinctive, while it was there, is also a gendered reading of her work—the idea that women are instinctive and men are intelligent. Helen Frankenthaler was both.
In 1952, at the age of twenty-three, Helen Frankenthaler created her legendary painting Mountains and Sea. Comprised of translucent washes of thinned-down pigment embedded in unprimed canvas, this large-scale painting was the first in which she used her soak-stain technique
Frankenthaler's mixture of oil and turpentine or kerosene, which she poured directly onto an unprimed canvas, seeped into and through the raw cotton fibers, evoking a sense of openness and atmospheric space without relying on traditional illusionism
Resources:
http://smarthistory.org/frankenthaler-sea/
http://www.artmarketmonitor.com/2012/01/06/whats-frankenthaler-worth/
http://www.thecallalilydialogues.com/the-dialogues/2017/7/18/helen-frankenthaler-mountains-and-the-sea
http://archive.org/details/aftermo00fran
http://www.guggenheim-bilbao.eus/en/exhibitions/after-mountains-and-sea-frankenthaler-1956-1959