bruegal icarus
Bruegel paintings still have many question marks surrounding them because the artist was prominent so many centuries ago, with few records still available. Despite this, the reputation of Pieter the Elder and other members of his family remains very strong within the art world and there are many who love to buy reproductions of his original works even today, normally as framed or unframed giclee art prints, posters and stretched canvases. The links included in this website will take you to the Art.com Bruegel gallery where many reproduction copies are for sale.
There has long been great discussion over the Landscape with the Fall of Icarus painting because it does not fit consistently into the career of Pieter Bruegel the Elder for several different reasons. Firstly, the artist used tempera on canvas in all his other paintings where as this was created in oils as seen far more commonly now. The mythological topic around which this painting was based would also be the only time that Bruegel would have done this.
© Bridgeman Art Library / Royal Musuems of Fine Arts of Belgium
a parable on human aspiration. Daedalus and his son, Icarus, were imprisoned on the island of Crete. Daedalus created wings to fly away. Icarus, ambitiously, flew too near the sun. The wax holding his wings together melted and he plunged into the sea and was drowned.

"God is with those who persevere; Persevere, and never fear."
– Flemish Proverb
All his most famous paintings come from the decade before his early death, when he was in his early forties, and at the height of his powers. He dropped the 'h' from his name and signed his paintings as Bruegel, and he is sometimes referred to as "Peasant Bruegel," to distinguish him from the many later painters in his family, including his son Pieter Brueghel the Younger (1564-1638).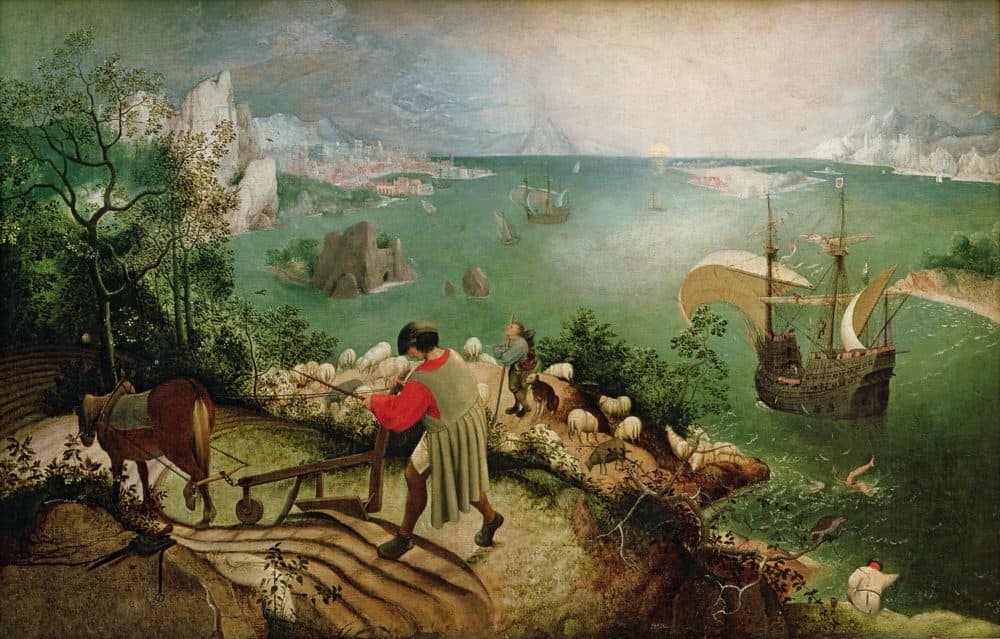 The Netherlandish artist Pieter Bruegel the Elder (1525-1569) is one of the most admired painters in the history of Western art. His ravishing and poignant "Hunters in the Snow" is one of the world's best loved paintings. And he's especially loved by poets. William Carlos Williams was awarded a posthumous Pulitzer Prize for his 1962 collection "Pictures from Brueghel and Other Poems," which includes his extraordinary series that gives the book its title. (The "h" in Bruegel, once commonly used, is no longer considered correct.) And one of the great poems about art is W.H. Auden's "Musée des Beaux Arts" (from 1938, on the brink of world-wide suffering), which is about a painting called "Landscape with the Fall of Icarus" in the museum in Brussels that gives the poem its title.
Still, it hurts that this iconic poem about what for so many years was considered an iconic painting is no longer entirely correct. A friend suggested that by changing only a couple of letters in Auden's title, the poem could be completely accurate: "Musée des Faux Arts."
Landscape with the Fall of Icarus was long thought to be created by the leading painter of Dutch and Flemish Renaissance painting, Pieter Bruegel the Elder. The composition is so dazzling that numerous curators identify it as one of the famous painter's creations. However, technical examinations from the 1990s caused the attribution to be regarded as very doubtful, and the painting, perhaps painted in the 1560s, is now usually seen as a good early copy by an unknown artist of Bruegel's lost original, perhaps from about 1558. There are two arguments for that thesis – the painting is in oil whereas Bruegel's other paintings on canvas are in tempera. The other thing is that the specialists see it to have a relatively weak quality compared to other Bruegels, although this question is complicated by later overpainting. The label on the museum wall for the painting includes a question mark just after Bruegel's name.
Landscape with the Fall of Icarus, Pieter Bruegel the Elder (after?), c. 1560, Royal Museums of Fine Arts of Belgium, Brussels, detail
Resources:
http://www.bl.uk/collection-items/landscape-with-the-fall-of-icarus
http://joyofmuseums.com/museums/europe/belgium-museums/brussels-museums/royal-museums-of-fine-arts-of-belgium/landscape-with-the-fall-of-icarus-by-pieter-brueghel-the-elder/
http://www.wbur.org/artery/2018/12/05/pieter-bruegel-fall-of-icarus
http://www.dailyartmagazine.com/painting-of-the-week-pieter-bruegel-the-elder-landscape-with-the-fall-of-icarus/
http://www.bl.uk/collection-items/landscape-with-the-fall-of-icarus