cape cod evening
Several aspects of both descriptions need to be elaborated on: (1) the scene is late summer or autumn, (2) the couple is of immigrant stock or a mixture of immigrant (the man who may be Swedish and the woman who is definitely Finnish) and local (the man whom Edward Hopper refers to as "Yankee"), (3) the dog responds to the sound of the whippoorwill outside the painting, and (4) nature is once again taking over: the trees are regarded as a phalanx, and night is approaching.
In his art Hopper reflected on progress, its beneficiaries and its victims. In this painting the couple belongs to the latter group. Their yard has become a field that is in the process of being overrun by locust trees, and the couple huddles near a grand house that seems alien to them—a house that belongs to another era and bespeaks a refinement that is inconsistent with their work-worn appearance.
The bright white of the house contrasts starkly against the dark tree, giving the viewer just a hint of discontent or even menace as evening approaches.
The scene is atmospheric for other reasons too. The house appears neat and tidy but the long prairie grass is blowing in the wind. The scene suggests Autumn but Hopper has deliberately used a dark blue/green colour and an evergreen tree.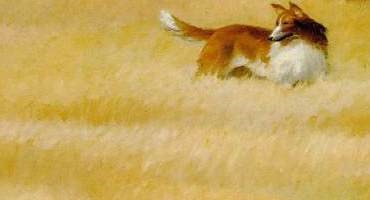 Despite this implied motion of the elements, there persists, as is so common in Hopper's work, a melancholy stillness. This mood is made even more poignant when considering Cape Cod Evening's connection with autumn. Autumn can be a melancholy time: it is not as bright or hopeful as spring and summer, bringing with it longer nights and the promise of imminent winter. Put simply: it is the season that precedes death; life cycles are coming to an end and nature is displaying its final – and arguably most beautiful – bloom. Worthy of note is Hopper's choice to set this scene in evening-time: evening is to the day, as autumn is to the year. The darkness of night is coming but it's not arrived yet. Despite this, the painting does not suggest hopelessness: the evergreens are resolute against the seasons; as is the house, which is strong, square, robust and prepared for whatever nature may throw at it.
Edward Hopper: 'Cape Cod Evening' (1939)
Image Credit: Irina via Flickr under https://creativecommons.org/licenses/by/2.0/


Hopper was an introverted individual who was notoriously secretive about the meaning of his paintings. Cape Cod Evening is a representative example of his mature work that features his most characteristic motifs and themes. Like many of his paintings, including other Cape Cod subjects, [7] &nbsp [7]
Other examples are Cape Cod Sunset (1934, Whitney Museum of American Art, New York), Cape Cod Afternoon (1936, Carnegie Museum of Art, Pittsburgh, PA), and Cape Cod Morning (1950, National Museum of American Art, Washington, DC). Clamdigger (1935, private collection) has the same basic composition as the Cape Cod paintings and contains many of the essential elements found in Cape Cod Evening, including the seated man, the dog, the grove of trees, and the house. However, as related by Gail Levin in Edward Hopper: An Intimate Biography (New York, 1995), 305, Hopper considered Clamdigger an abysmal failure. the scene occurs at a specific time of day indicated both in the title and by his use of light. He was fascinated by architecture, and buildings play a major role in many of his paintings, either as subjects or as primary accessories. The psychological isolation that separates the male and female protagonists in Cape Cod Evening reflects Hopper's penchant for mysterious, quasi-narrative subjects that imply dysfunctional sexual relationships. [8] &nbsp [8]
For a discussion of the pervasive and constant theme of alienation in Hopper's art, see Linda Nochlin, "Edward Hopper and the Imagery of Alienation," Art Journal 41 (Summer 1981): 136–141. Also typical of Hopper, the painting's sinister ambience may have been influenced by contemporary film noir. [9] &nbsp [9]
For the influence of film and photography on Hopper's work, see Gail Levin, "Edward Hopper: The Influence of Theater and Film," Arts Magazine 55 (Oct. 1980): 123–127; Erika Doss, "Edward Hopper, Nighthawks, and Film Noir," Postscript: Essays on Film and the Humanities 2 (Winter 1983): 14–36; Marc Holthof, "Die Hopper-Methode: Vom 'narrativen' zum 'abstrakten' Realismus," and Paul Levine, "Edward Hopper und die amerikanische Kultur," in Edward Hopper, 1882–1967 (Frankfurt, 1992), respectively, 19–27, 28–32.
It is no transcription of a place, but pieced together from sketches and mental impressions of things in the vicinity. The grove of locust trees was done from sketches of trees nearby. The doorway of the house comes from Orleans about twenty miles from here. The figures were done almost entirely without models, and the dry, blowing grass can be seen from my studio window in the late summer or autumn. In the woman I attempted to get the broad, strong-jawed face and blond hair of a Finnish type of which there are many on the Cape. The man is a dark-haired yankee. The dog is listening to something, probably a whippoorwill [sic] or some evening sound." [5] &nbsp [5]
Edward Hopper, quoted in Grace Pagano, Contemporary American Painting: The Encyclopedia Britannica Collection (New York, 1945), 57.

Your painting will be shipped rolled in strong plastic tubing, ready for stretching and/or framing locally. This is the conventional method of transporting hand-painted oil on canvas. Learn more about how your painting is shipped.
We ship free to anywhere in the world via FedEx or DHL expedited service with online tracking.
Resources:
http://www.edward-hopper.org/cape-cod-evening/
http://www.thebubble.org.uk/culture/art-photography/autumn-series-edward-hoppers-cape-cod-evening-1939/
http://www.nga.gov/collection/art-object-page.61252.html
http://www.reproduction-gallery.com/oil-painting/1039685453/cape-cod-evening-by-edward-hopper/
http://sites.google.com/a/g.clemson.edu/ekphrastic-poetry/-woman-before-an-aquarium