target with four faces
The image of the target emerges in Johns work in 1955, in paintings that incorporate frieze like arrangements of plaster casts taken from parts of the body. Target with Four Faces is one of the serie paintings and drawings of the target image from 1958 to 1961. Each of these Target paintings by Johns features a depiction of an actual target that is, for all practical purposes, utterly interchangeable with the real thing. Yet unlike the flag or the number, which are also familiar images from this period of the artist's career, the flat target is simultaneously representational and abstract (a number or a flag can never be divorced from its status as a familiar sign). This makes the target susceptible to other ambiguities. Targets imply, or are instruments of, seeing across space (and seeing as an act of potential violence). But the optical nature of the concentric bands can also be understood to figure distraction rather than focus, something that is also suggested by the mechanical action of a rotating compass by which the image of a target is produced.
Johns' targets ideas suggested by the early flags, but more abstractly. An American flag is always the same while a target can be any number of things – all that unites targets is a common format of concentric circles. A flag is bound to one nations; a target is universal. The colors of the flag are fixed; in the target, they need only be contrasting.
This is a time when Abstract Expressionism was the dominant force in the art world. These artists shared the conviction that art is inextricably tied to the artist's subjective experience. And they made work that could capture the individual essence of the artist through the gestures he or she makes in paint on the canvas. So if you think of it in that kind of context, Johns is pointing in a totally new direction, both in terms of the subject but also in terms of technique.
Johns was really interested in trying to imagine a new set of possibilities for painting, and did so by playing with the subject matter, by creating paintings that at first glance, don't look any different than the actual objects that they represent.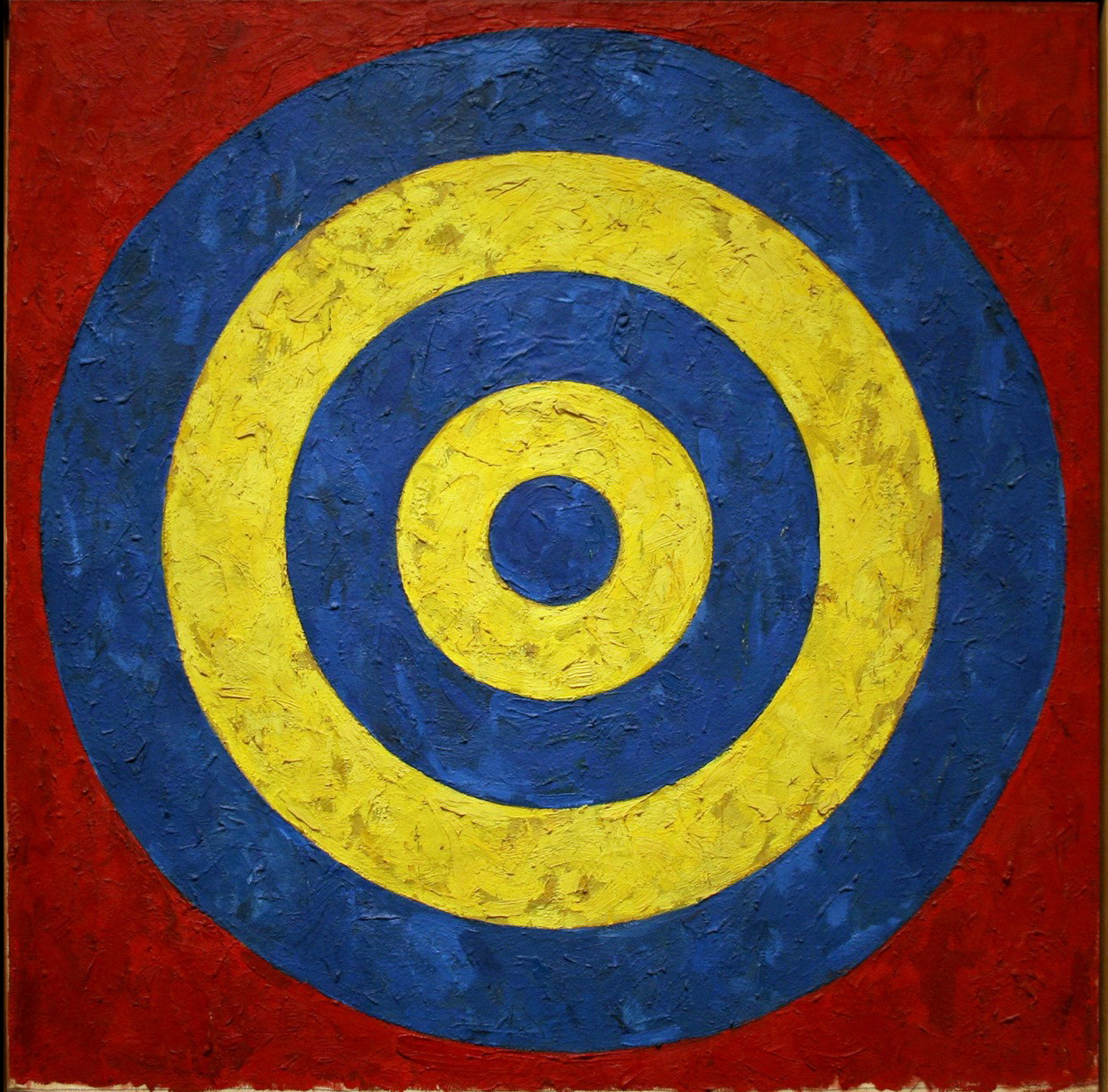 "In 1955, Johns completed two works that stand alongside Flag as his most important early paintings," writes Professor Isabelle Loring Wallace in our Jasper Johns Phaidon Focus book. "Entitled Target with Four Faces and Target with Plaster Casts they gave rise to several additional pieces in various media, all of them linked via the provocative imagery of the bull's eye.
"There may also be a deeply personal meaning to these works, which relates to Johns identity as a closeted gay man from the American South living in the persecutory, anti-communist and homophobic era of Senator Joseph McCarthy" she writes. "Intimately involved with Robert Rauschenberg in the second half of the 1950s, Johns, who let the phrase 'History and Biography' show through a layer of encaustic in the upper right-hand panel of Target with Four Faces, may have felt himself a target of considerable hostility.

If you notice an error, please contact us at [email protected]
In 2018–19, MoMA collaborated with Google Arts & Culture Lab on a project using machine learning to identify artworks in installation photos. That project has concluded, and works are now being identified by MoMA staff.

Whereas the Abstract Expressionists saw themselves in competition with European painting, indeed had wanted to destroy it with their psychologically charged and completely non-referential wall-sized canvases, Johns and Rauschenberg sought to pour the real world back into art through the use of mundane symbols and everyday materials. Unlike the Pop artists and Minimalists who would follow them, the 2 young men, almost as a joke, retained the fleshy brushstroke of the abstractionists but squeezed the angst out. Most importantly, and more evidently in Johns, the paintings became more conceptual in nature, more like linguistic puzzles and less like voluptuous feasts for the eye; in this the 2 young artists were camp followers of their own Parisian hero, not Picasso, not Matisse, but Marcel Duchamp (1887-1968), alive and well and living in New York. By the time Johns and Rauschenberg sought him out, it was thought that Duchamp had given up art for chess. In truth he was secretly at work on his final masterpiece, Étant Donnés, a somewhat pornographic installation you can view through a peephole at the Philadelphia Museum, and periodically reissuing miniature copies of his previous greatest hits. Through Duchamp, Johns and Rauschenberg imbibed the spirit of Dada, the anti-art movement born in the ashes of the First World War: its mordant wit, its word play, its disdain for the nicely behaved painting. Johns looked at America in the 1950s and saw a country filled with symbols and objects capable of instantaneous recognition by the public (ie, the American Flag, targets, numbers, and maps) and realized he could turn the speed of communication against itself by frustrating the expectations of the viewer. For example, Johns often labels the colored areas in his paintings with the stenciled names of colors (eg, in a Map of the United States) except that the word "blue" is stenciled red in a white area. An American Flag painted by Jasper Johns exactly fits the borders of its canvas and has the same colors and same numbers of stars and stripes as its model. From a distance it looks like a real flag tacked to the wall; up close it has a lushly painted surface, its brushstrokes made more sculptural through the use of encaustic on paint-soaked paper glued to the canvas. Photograph it from a distance and it looks like a real flag, the symbol of our country; you can salute it but you can't run it up a flagpole, it's rigid and it can't wave. Is it a flag or not, a symbol of the country or a symbol of itself, or merely a painting of the symbol? Is it a sign for something else?
The paintings of Jasper Johns caused an immediate sensation at their first exhibition; the Museum of Modern Art bought 3 works from the Castelli show in 1958, something it had never done with any other young artist. Art News, one of the most powerful journals of its day, placed "Target With Four Faces" on its cover. A number of soon-to-be-famous artists visited the first show; it proved a revelation to Frank Stella, then a student at Princeton University, who immediately started making object-like paintings out of stripes. As we have already seen, his work would be a determinative influence on the pioneering group of Minimalist object-makers. 2 Kenneth Noland, one of the founders of Color Field painting, actually called his painted circles "Targets," soaking his thinned paints into the canvas; these first appeared in 1959. The freedom "to act in the gap between life and art," as Rauschenberg famously put it, inspired the Pop artists to give up the flashy brushstroke as well as the angst, and to use mundane subject matter from American advertising, the newspapers and the comic book. Warhol's printed and constructed "Brillo Box," even more than the Flags and Targets of Johns, gave absolutely no visual clues as to how it differed from the real box containing real soap on the shelf of your neighborhood supermarket. To a significant degree, the Johns show signaled the beginning of the end for Abstract Expressionism's domination of the art world and the re-entry of recognizable subject matter into painting. Speaking specifically of his response to "Target With Four Faces" at the first Johns show, the eminent critic Leo Steinberg tried to explain his sudden sense of loss with the comment: " … what really depressed me was what I felt these works were able to do to all other art. The pictures of de Kooning and Kline, it seemed to me, were suddenly tossed into one pot with Rembrandt and Giotto." In other words, Abstract Expressionism was no longer a vanguard style but had passed into history, it meant the end of painting as a means of transformation or illusion, "so, the flat is flat and the solid is three-dimensional." 4
Resources:
http://www.moma.org/audio/playlist/1/546
http://www.phaidon.com/agenda/art/articles/2017/may/15/what-was-the-target-in-jasper-johns-paintings/
http://www.moma.org/collection/works/78393
http://academic.oup.com/neurosurgery/article/67/6/1463/2556724
http://www.jasper-johns.org/target-with-four-faces.jsp